Copywriting mastery is one of the most important skills you must have to be a successful internet marketer.  Just putting words together  that you grab out of thin air to create a sales pitch just won't do it for you.
Copywriting is both an art AND a science. Most marketers totally miss the science part.
What's so important is to make connections with your market, you have to make them laugh, make them cry, and make them THINK.
People don't buy what they want, they buy what they NEED.
Needs stem from emotions. Marketer's get paid when they are able to write copy that fulfill's their market's needs on a deep level.
The 12 Reasons Why People Buy
Let's visit the 12 reasons why people buy:
Eases their pain
Encourages their dreams
Validates their thoughts, concerns, and feelings
Engages and captures their attention
Makes them feel loved
Makes them feel needed and significant
Gives them a sense of hope
Makes them feel like they are leaving a legacy
Tells them secrets
Gives them a sense of power
Offers a scapegoat
Calms their fears and doubts
I highly recommend getting this course if you don't understand the nuances of how to write to reach your audience.
The author, Brian Fanale of the  Copywriting Mastery Course is also the co-founder of My Lead System Pro (MLSP). Brian went from broke, struggling bartender to generating millions of dollars worth of sales leveraging the art and science of copywriting.
The first thing I noticed was Brian taught how people BEHAVE and THINK when they buy.
Copywriting Mastery: A Review
Copywriting 
Mastery is a 6 Module course, where each module builds upon the other. Let's take a look at each module
Module 1 Dangerously Persuasive Copy: This module contains a 4 hour training where Brian walks you through WHY people buy. We all have needs that must be fulfilled if we are to live a fulfilled life.
If you don't understand these needs, people will not buy from you. Period.
Brian broke the 4 hour training into easily digestible 1 hour segments.
Module 2 Mind-Hacks and Mind Control: In this 6 hour training, Brian breaks down which words and phrases compel people to whip out their credit cards and buy from you. He also includes PDF handouts that you can print out and look at when you're about to write your first copy.
The video trainings in this module run from 33 minutes in length up to 90 minutes.
Module 3 Forbidden Funnel Secrets: In this module Brian walks you through how to create compelling headlines for your lead capture pages, sales pages, and emails.
This module contains not only 4 videos that walk you through this process, but he also inclues a high-converting fill-in-the-blank PowerPoint template. All you need to do is add your information to it and you're set to go!
Module 4 Mastery Copywriting Critique: In this 2 1/2 hour training Brian critiques the Copywriting Mastery students samples.
Module 5 Fanale's Favorite Power Words: In this module Brian gives you a PDF of all of the power words that he has used in his copy which generated him millions of dollars in sales. Think of it as your copywriting thesaurus.
Module 6 Interview with Dan Kennedy: In this module Brian sent a fax to Copywriting Legend, Dan Kennedy, asking for an interview. Many marketers tried to get an interview with Dan and have failed.
Brian succeeded. In this module Brian shows the exact FAX he sent to Dan as well as a PDF transcript of the interview.
Dan was so impressed with Brian that he also offered a bonus as well. Want to see what it is? Purchase the course!
Copywriting Mastery Bonus: This is my absolute favorite bonus that Brian offers. It is a 13 page PDF document on how to persuade someone in just 1 sentence (27 words). A fascinating read!
Mind-Control Copy: Dangerous Copywriting Secrets to Hack Into the Unconscious Mind of Your Prospect, and Control Their Thoughts
Copywriting Mastery Pros
Copywriting Mastery is the most complete copywriting course out there. The content will never become obsolete because it's based on human NEEDS.
The course modules are broken down into easily digestible formats. People have video and PDF's to view the material.
You can go at your own pace.
Copywriting Mastery Cons
You may need to go through the course, especially Module 1, several times to understand everything covered because it is very intense. However if this is something you want to dig into and get better at, you can't go wrong with this course.
Copywriting Mastery is expensive, with the cost $497. However, there are monthly installment plans which made this affordable.
I would highly recommend this course because copywriting is one of the main foundations of your business.
Posted by Terri
Did this help you?  "Tips From a 7 Figure Copywriter"  If so, leave a comment below and share it with your friends on Facebook.
P.S. If your upline does not have a step-by-step copywriting blueprint for ONLINE marketing success, check this out (unless you already have too may sales) – Click Here for Instant Access
DANGEROUS COPY SECRETS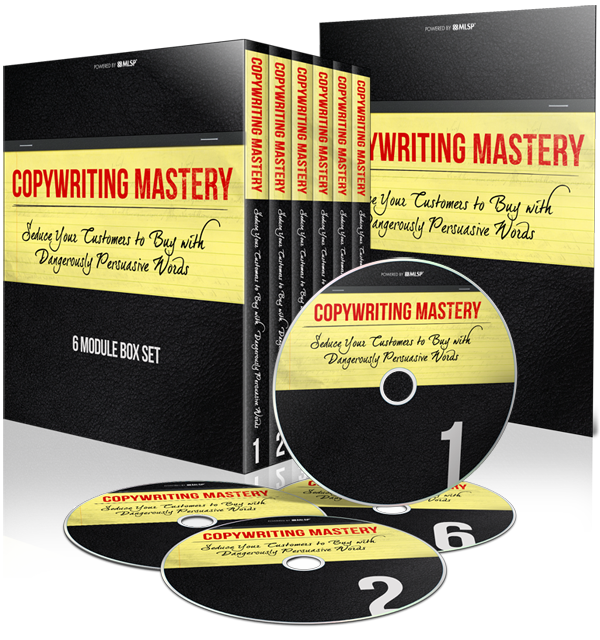 Mind-Control Copy: Dangerous Copywriting Secrets to Hack Into the Unconscious Mind of Your Prospect, and Control Their Thoughts